9 Reasons Why Shaktimaan Was Better Than Any Given Superhero
There could be no one in the 90s who did not watch Shaktimaan. This indigenous superhero was a favorite with all. And there are more than one reason for the love and attention he received.
1. He was no show-off
Where every western superhero wore his undies' outside; he liked to keep it in. He could rock even without showing off his briefs. Way to go Shaktimaan!
2. No muscles yet strong
He did not have any six pack abs or 'dole-shole' yet he was as strong as a bull. He would make his enemies wince in pain with a just a blow!
3. He could make you LOL
Unlike the boring and serious superman or batman, our Shaktimaan was potent enough to make us laugh loud with his comic gigs as his alter ego 'Gangadhar'!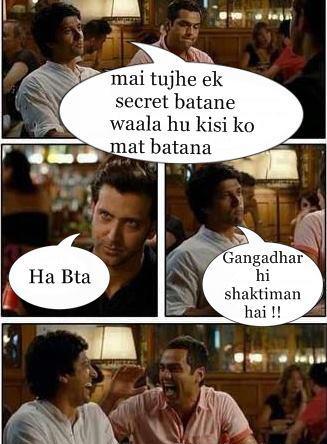 4. He could fight all kinds of villains
Where the western superheroes kept on trying to defeat the same villains again an again; he fought with a variety of dangerous criminals from 'electric man' aka Bazooka to 'Tamraj Kilwish'. Andhera kayam rahe!
5. Possessed great powers
He could hear SOS calls and sense trouble from miles away. And then reach those places in no time at all! Never once did he fail his fans!
6. Killer looks
He dressed to kill. With that amazing, affordable and excellently designed dress he was no less than a charmer. LOL. Kids especially boys, in those days, definitely possessed a pair of that maroon and gold costume.
7. Huge fan base
Had there been Twitter and Facebook at that time, all the networks would have been jammed with almost all of India following him.
8. An inspiration to the young superheroes
Even Krrish another of our very own superhero is sought inspiration from Shaktimaan and never wore his underwear over his dress. And see, he is as popular with kids today as Shaktimaan was then with us.
9. Education with entertainment
Shaktimaan was a complete package. He not only entertained us. He also taught us the good habits by his 'Chhoti-chhoti magar moti baatein' section' that made the phrase 'sorry Shaktimaan' so popular, we can still hear it now sometimes.
10. Spin the top
The best part though was his amazing spin on the axis entries and exits. Children would go crazy trying and competing with each other to spin like him! Hail Shaktimaan!
For more such entertaining stories do and Follow @allviralstories on twitter. You are awesome!