9 Things You Did In School To Fake Teacher You Know All The Answers
We all have had our most treasured times in school and the most memorable and probably the funniest ones definitely include those gigs that we pulled on teachers in the examination hall to give her the impression that we know every f***ing answer!
We would of course be clueless to about 20% of the answers (including the padhaku ones' data too; for us humble mortals, it would be somewhere around 40-60%); so to really survive the exam hall and the teachers there, we had to anyway, fake it!
1. Whenever the teacher happened to look our way, while we would be busy concentrating on the Bollywood song being played in the distant, we would immediately feign as if we are trying to remember an answer.
image source/ Koffee with Karan
2. Or we would start scribbling gibberish in our copies, pencil of course.
3. And if we were supposed to write with a pen, we would act as if we are actually writing, by just moving our pens only a few mm above the page.
4. And if it was too late for all this, we would simply stretch out….Oh god!! The 'paper's' so tiring!
5. We even repeated the questions in the answer sheet, so that teacher would find us writing at least something! 😉
image source/ Dharma Productions- Yash Raj Films
6. Then there was this good ol' trick to draw the borders, make 'phool-patti' to decorate our work.

C'mon…we just wrote an article on 'samay ka sadupyog'!
7. Or if you were one of those cleanliness-obsessive kids, you would draw neat lines using your Natraj 'scale', after every question and answer to keep yourself busy and fooling the teacher!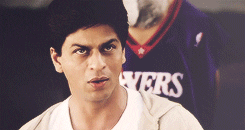 image source/ Yash Raj Films
8. Or if we would simply play busy,by writing very slowly and trying to make each letter a masterpiece…perhaps in the hope of 'Extra marks, for good handwriting'!
image source/ Yash Raj Films
9. And lastly, we would fake 'revising' our written (or not so written) answers. And all the while our mind would be, "What the f***! Why can't I remember where I heard this song before"?!!!!
image source/ Red Chilies Entertainment
For more such entertaining stories do and Follow @allviralstories on twitter. You are awesome!