Amul Vs. Neha Tomar: Who Is It At Fault? Or Is There Any?
ViralStories Writer
Follow @allviralstories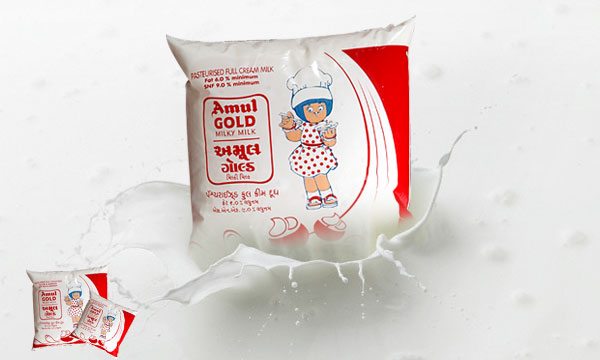 image source: dudhsagardairy.coop
When as a common customer, we experience a folly from our favorite brand what do we generally do? As a responsible customer, it is both our right as well as duty to bring the authorities to notice the problem faced by us and request them for an appropriate action.
This is what a just a commoner of a customer, like you and me, Neha Tomar did. When she experienced some alarming issue with her usual brand of Amul Gold Milk, she lodged a complaint with the Amul people.
The not so cold war, took an ugly turn when the Amul authorities posted an explanation of the allegations posed on them by Ms. Neha Tomar on their official Amul page on Facebook.
Now, the hurt and disappointed customer is narrating her side of the story, claiming Amul's allegations to be baseless.
She writes on her wall:
I am extremely disappointed with the way amul has moulded and represented the whole story. Very smartly they have played the blame game. I would like to share with everyone if i would have had any mala fide intentions then i would have demanded a handsome monetary compensation from them. As many of my consumer frnds feel that i have did this for publicity. I am just an ordinary consumer but yes i am not like those who are not bothered to tell the wrong doer about the wrong they do. The xplanation amul is posting now is their liabilty and responsibility. Being a consumer i have full right to question about a wrong product.
Amul peple have moulded the whole story just to favour them. I have done no wrong by spreading awareness about what i faced. I shared the pics and post cuz i m a mother and i was worried and afariad after seeing what came out of that milk. Being a layman i do not know what it was. In order to know and to tell everyone it was needed to bring the issue in knowledge of everyone. Amul would have not bothered if it was not posted on their page.(any one can try posting anything now on their page, but not allowed now) shows who has got mala fide intentions. I have timely updated what happend when and i have no fears. I have done good to society and atleast to my family and friends by spreading this awareness. I would also not deny the effort done by amul to visit me and addressing the issue. But the way they have posted the ending of the issue is totally wrong and moulded for favoruing them. Earn trust of consumers by being true and polite to them. This is all i have to say. I am happy that i took some initiative and i was not a part of that crowd who simply walks and lives and dies in the crowd and never stand like an individual.
Watch this video to see how Amul tampered with the screenshots of Neha's wall to alter the timestamp.
Video Source: Amul- This is unfair!
Neha told ViralStories.in
What I projected as a concern, being a true consumer of Amul, came to be projected as WAR. On the night of 9 October 2014, my husband bought 3 ltr (6 packets of 500 ml each) of Amul gold milk from a vendor outside our society. It was duly refrigerated, only to be opened by my mother-in-law the next morning. She noticed a sour smell in the first packet, and then eventually in the second one too. She took the rest of the four unopened packet to the vendor, who refused to take it back. Like any other middle class consumer, we thought of making paneer out of it instead of throwing it away. When the milk was put to boil, the look of it changed to a stretchy gooey substance, despite the fact that nothing else was added to it. It was nothing but scary to see that mass, which could have been consumed by my family, including an infant. Being a responsible consumer, I called up Amul customer care where the executive noted down my contact details and told me that some Amul executive will visit me in 4-5 working days. I was taken aback because it was a serious problem and needed immediate attention. The executive mistook me to be overreacting, and disconnected the call without giving any complaint number, even after my asking them for the same. I tried calling again, but lines were busy and I could not get through. It was then that me and my family thought of taking the help of Facebook, which is the most active networking site these days and also has pages of all big brands. I posted details and pictures on Amul's page, and my own Facebook page on 10 October at 11.55 a.m and again at 11.56 a.m. Amul officials got into action, contacted me and met me on 11 October at 6.30 p.m. However, my post is no longer visible on their page and no new post can be posted too. I humbly attended to and met Amul officials and explained to them my predicament and disappointment. They replaced the milk, and gave me promises that appropriate technical guys will look into the matter and will resolve this. I narrated this whole meeting incident on my Facebook page on 13 October at 10.53 a.m, impressed that the Amul officials were helpful and promised to take cognizance of the matter. Later that evening, 6 Amul officials came to me and explained to me what that stretchy substance could be. However, they accepted that customer care executive was not correct in saying that the complaint will be addressed by Amul officials in 4-5 working days. They informed me that the customer grievances are taken care of by third party and that the Amul head office will look into it. They showed me videos also, which I believed and said that being a layman, I do not know what came from my milk and it is good that they took the effort of explaining the whole reason. I thanked them, happy with the effort they took in addressing the consumer complaint. The very next day, 14 October 2014 at 10.38 a.m., I shared a post again on my Facebook page showing victory and also that how the officials came and met me and explained. And I also praised Amul for its complaints solution and efforts. Like a good consumer I was happy and satisfied in the end. But that same day, Amul posted a post on its page at 3.16 p.m., which read more like a threatening message. Not only were the facts misrepresented, but also the wrong and tampered screenshots of my post were posted. I posted my grievance on 10 October, whereas Amul showed that I posted it on 9 October.
This can be seen here.
Amul also edited their own post on their page three times with different edited versions. Below mentioned highlighted portions are the edited versions. First post of Amul on their page was posted on 14th October at 3.16 p.m. This is regarding the Facebook post that Ms Neha Tomar has shared on her wall. The details of the matter are as follows: The consumer called our customer care on 10th morning at 9.22 am and shared her experience of using Amul Gold Milk on the very same day. She also emailed the complaint to our official email ID on 10th afternoon. As informed by her, the "use by" date of the Amul Milk was 9th of October. This means the consumer had used expired milk in the first place. It may be also noted that the consumer has been misusing her office to publicize this story on Amul. We hope that she has informed her office regarding the same as we shall hold her office too responsible for her actions. Edited version of first post again posted at 7.10.p.m The consumer called our customer care on 10th morning at 9.22 am and shared her experience of using Amul Gold Milk on the very same day. She also emailed the complaint to our official email ID on 10th afternoon. As informed by her, the "use by" date of the Amul Milk was 9th ofOctober. The milk got expired in her fridge, later used by the consumer. We do not understand that why the consumer used her official position to make such complaint without knowing the fact.
See the link for detailed edited posts. Link the link and see the edited section at the post.
It is clear how Amul realized that they have threatened me in their first post, thanks to many comments on the thread, and they edited the post. There is no clarification needed for their mala fide intentions. Secondly, I did not give any time promise to Amul officials to upload my feedback. This is a lie and a clear attempt to play with someone's faith in them and their service, and only to twist facts in their favour. Thirdly, Amul tried to threaten me by involving my office name into highlight which is again totally wrong at their part. I posted everything on my personal level and not on behalf of my organization. Nowhere have I written that I am representing my organization for raising this issue. Nor I have posted my position anywhere. It was clearly mentioned by me that it is my personal experience, and my office has absolutely nothing to do with it. Amul tried to defame the name of my office also, to which they have no right. Fourthly, Amul accused me of having mala fide intentions. Perhaps the first thing I should have done was to sue Amul and claim handsome monetary compensation. That would have defined 'mala fide' for Amul officials. But that I did not do. I am not a publicity seeker.
Perhaps behaving cooperatively or humbly with Amul officials made them believe that I was an easy consumer to mislead or defame. If indeed I wanted to gain publicity, I would have very initially gone to the electronic and print media. What I did was as an everyday aggrieved consumer, who has seen this brand being used from the very childhood. I had faith in the brand and that's why I approached the people concerned. I was never having personal grudges against Amul, and there was no reason for it. I was angry on the product, Amul gold milk, which was not up to the required qualitative standard. I brought the issue in the light because nobody takes consumer complaints seriously in India. I took the help of these platforms so that the senior officials and authorities could access the issue and take steps for it being repeated. I stand proud at the step I took and have no guilt at having done so, and the way I did it. The entire country has faith in Amul, and so did I. But the way Amul threatened me was unimaginable. By maligning a consumers image, Amul has only dug its own grave, has ruined the name that has taken so many painful, hardworking years to build. I was an angry consumer and so I took recourse of those platforms, so that my concern could be heard. Adulteration in products is nothing new in India, and milk is a basic daily need of ours. I was scared and terrified after seeing what we were consuming every day. Being a mother, I was terrified with the consequences that could have happened if that milk would have been given to my seven month old daughter, or any other family member. All I expected was a quick and polite response. I am no scientist to know what happens to milk in particular conditions, and a straight forward explanation was all that was needed. No threats. No tampering posts. And no blame games. There is no war between me and Amul. Like an ordinary consumer, I wanted Amul to solve the matter, and also being a big brand they have some accountability towards customer grievances. But the way they solved and manipulated the whole issue was totally unexpected and hurting. I happily posted everything good about Amul on Facebook after their response in appropriate time. Being humble is the quality of the wise; threatening a vice of the arrogant/ ignorant. Just this one mistake from a few officials has not just soiled the brand name, but also lost many good consumers. I would have been very happy if Amul would have ended this on an amicable note. A proof of which is over one lakh people who shared the post on Facebook and shared their comments and observations. A brand is made by its consumers; it is never the other way around. I could have taken legal measures to respond to the public threat by Amul, but I did not, because I do no hate Amul. But Amul Gold milk has lost its customers, one is me. As a regular Customer of Amul products, I only tried to bring to the notice of the Customer Care and management an issue which needed immediate attention. It was construed by Amul Management that I was working on behest of other Corporate, and I had malafide intentions. I never expected this kind of response from Amul, a brand I have grown up consuming in various forms. It is sad day for consumer rights!
Is this what we all have to face, if only we practice what is our right? Consumer right.
It is indeed sad to see how a mere one in millions of loyal customers is facing such baseless and unnecessary accusations from such an old, trusted and giant of a company which we all have literally grown on and up with.
[mashshare]
For more such entertaining stories do and Follow @allviralstories on twitter. You are awesome!